European's best carvers came together at Noordwijk, Netherlands to create this year's sculptures for the European Sand Sculpture 2008 festival held from 18 July to 17 August in Noordwijk.
This year's theme was 'In Celebration of Disney' classic movies like Snow White and Sleeping Beauty got their homage in sand but also the recent Narnia sequel and Pixar's Wall-E are presented. I traveled to Noordwijk last Wednesday, still quite the journey with tram, train and bus I was underway for about 90 minutes.
Pictures are uploaded at my Photobucket account.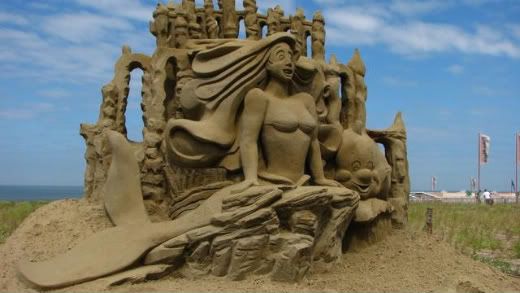 kangofu, posted cute scans of the princesses at the LiveJournal community d_princess I lurk. The magazine in Japan is quite different from the European version much more busy and present. I don't think I would buy it. Jasmine got a little presesnence by appearing in a standard pose but with a fancy dress on a calender titled "Pretty as a Flower" which suits her being named after a flower and all and she and Rajah are decorating a drawing activity. Rajah is standard clipart I've seen as a sticker before but Jasmine's pose I question if it's new-ish. It might be a different pose that's simalair it's not in my stickers books that I am sure. Jassy's got two standard coloring pages one you'll find in the Coloring Page Gallery
She promises to do her best to scan an issue that has Jasmine on the cover, I'll keep an eye out.